MONISTAT® Treats a Wider Breadth of Yeast Infections
Yeast infections are not all created equal. In fact, there are many different species of yeast that may be responsible for causing a vaginal yeast infection. In choosing a yeast infection treatment, you want an antifungal that will be effective on the most common type of yeast—called Candida albicans, as well as non-albicans species. Non-albicans species are often found in women who experience recurrent yeast infections, are taking antibiotics, suffer from diabetes or lupus, or routinely use prescription fluconazole. Did you know that not all yeast infection treatments cover all species of yeast?
MONISTAT® provides the broadest treatment of yeast infection1 occurrences, more than Diflucan® and Terazol®. Recent data from the International Society for the Study of Vulvovaginal Disease (ISSVD) shows that miconazole, the active ingredient in MONISTAT®, is the only recommended azole treatment for C. glabrata, the most prevalent non-albicans yeast species.
When you compare MONISTAT with all available azole antifungal treatments, it's clear to see that MONISTAT® provides the broadest treatment for all of the most common types of yeast infections. MONISTAT® is effective for common albicans and non-albicans species of yeast, so it treats a broader spectrum of common yeast infections than prescription fluconazole. Plus, research shows that a growing number of yeast species are developing resistance to fluconazole (Diflucan®), but yeast species are less resistant to miconazole, the active ingredient in MONISTAT®.
MONISTAT® (miconazole) Provides the Broadest Treatment of Yeast Infection Occurrences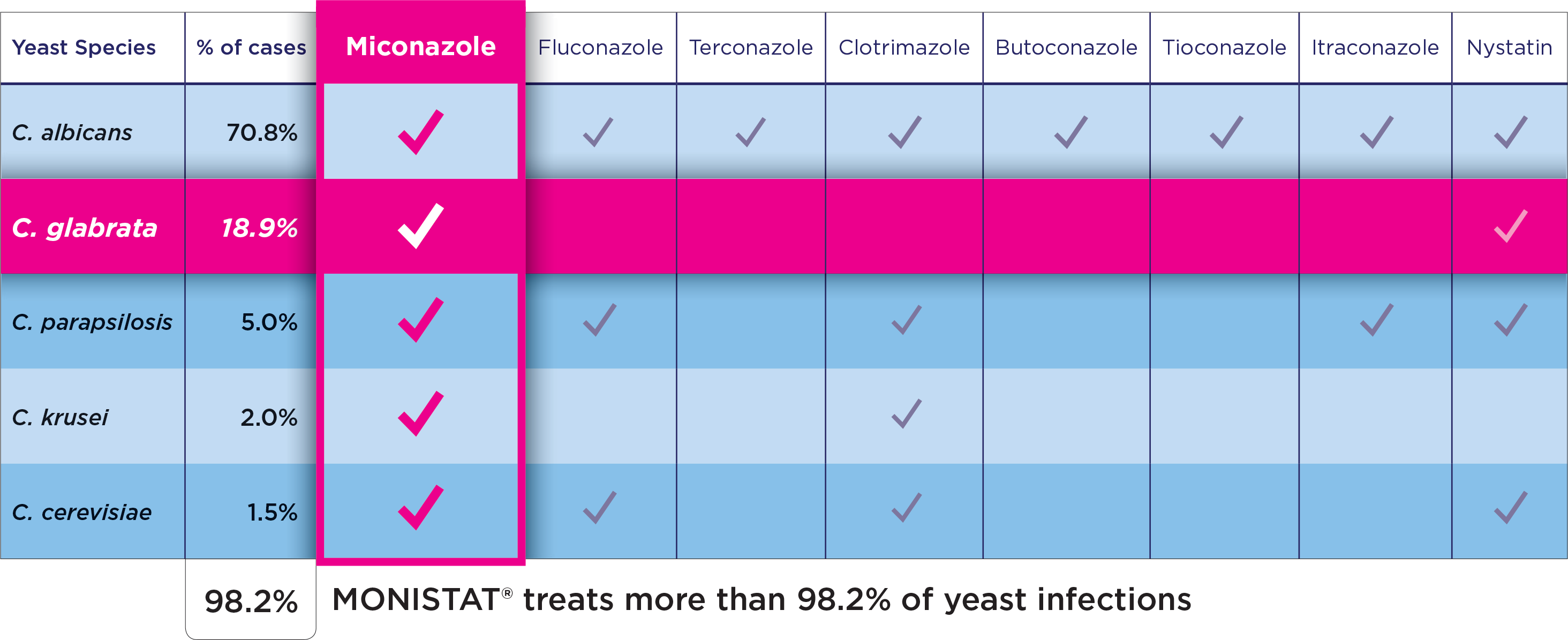 *Diflucan® is a registered trademark of Pfizer Inc. and Terazol® is a registered trademark of Johnson & Johnson.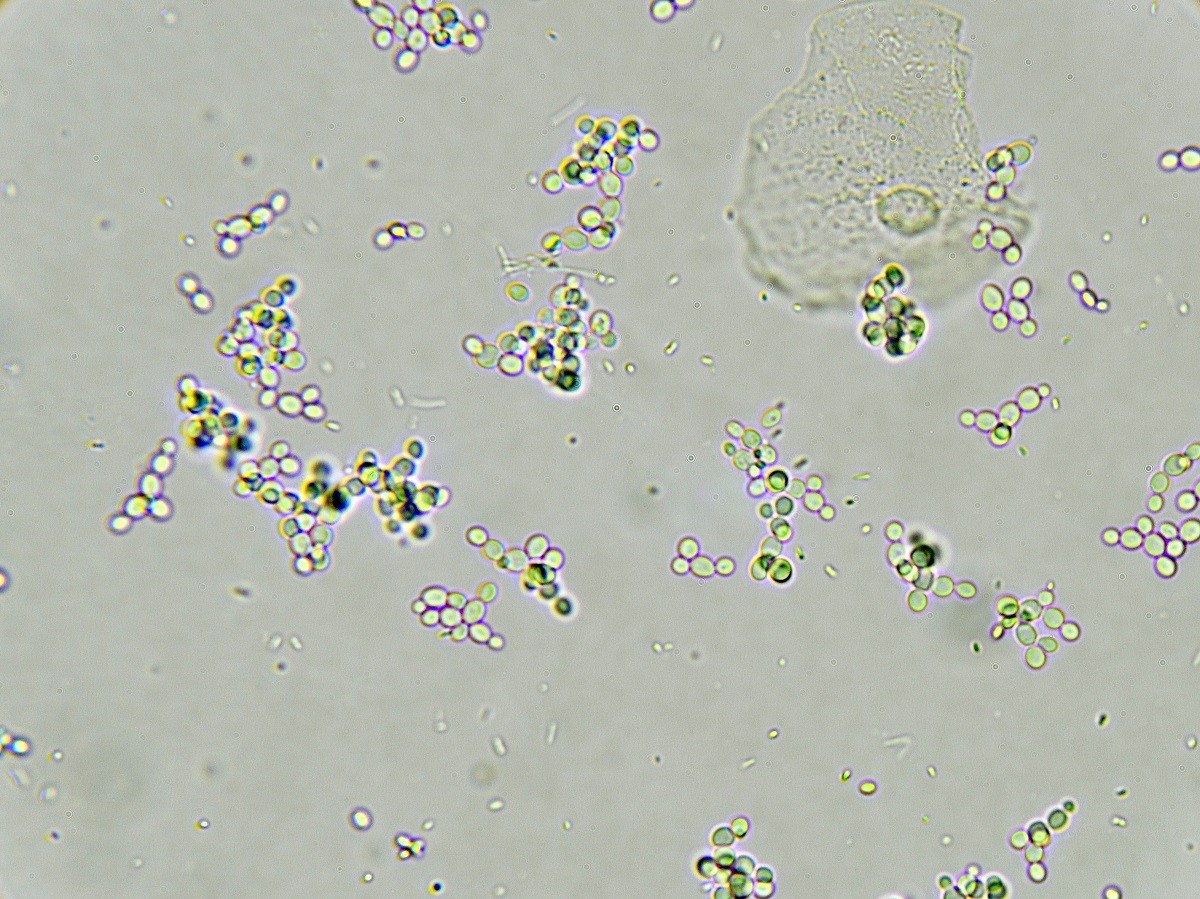 Do you have a yeast infection?
Answer a few questions and find out what your symptoms mean.
Which MONISTAT® Product is Right for You?
Which MONISTAT® product is best? Since MONISTAT® 1, 3, and 7 all include the active ingredient miconazole, you can feel confident that you'll be covered no matter which MONISTAT® product you choose. Optimal treatment for non-albicans yeast is unknown, however, the CDC recommends that a longer duration of therapy may be needed; 7-14 days of a topical azole like MONISTAT®.  CDC also recommends against using the leading oral prescription because of resistance.2
MONISTAT® 1
Monistat® 1 Combination Pack is a single-dose product (1200 mg of miconazole nitrate) may be the perfect solution for busy women with active lifestyles. Available in Ovule® form. Use as directed.  
MONISTAT® 3
MONISTAT® 3 is a great treatment option for women who want a less concentrated treatment (200 mg of miconazole nitrate per dose) that provides consistent treatment and relief at moderate dosage levels. Available in Ovule®, cream and suppository forms. Use as directed. 
MONISTAT® 7
The MONISTAT® 7 suite of products is the original formula (100 mg of miconazole nitrate per dose), with smaller doses of the active ingredient evenly distributed throughout the week at bedtime. The CDC recommends 7-day treatment for pregnant women and diabetic women (consult a doctor before use).  Available in cream form. Use as directed.
References:
Richter SS et al., Antifungal susceptibilities of Candida species causing vulvovaginitis and epidemiology of recurrent cases. J Clin Microbiol. 2005;43(5):2155-2162.
Centers for Disease Control and Prevention. Sexually Transmitted Diseases Treatment Guidelines, 2015. http://www.cdc.gov/std/tg2015/tg-2015-print.pdf. Published June 5, 2015. Accessed August 14, 2015.
Marchaim D, Lemanek L, Bheemreddy B, Kaye KS, Sobel JD. Fluconazole-resistant Candida albicans vulvovaginitis. Obstet Gynecol. 2012;120(6):1407-1414.

Monistat FAQ
Get answers to questions from women just like you.