MONISTAT® OTC Convenience
If you're like many women, you've come to recognize the symptoms of a vaginal yeast infection, including vaginal itching, vaginal discharge that may be thick, white and lumpy like cottage cheese, vaginal soreness, irritation or burning, rash or redness on the skin outside the vagina (vulva), burning upon urination, and painful vaginal intercourse (sex).
When it comes to relieving symptoms of a vaginal yeast infection, you want an effective and convenient treatment. Try MONISTAT®. MONISTAT® products are available in a variety of treatment dosages and systems so that you have options to meet your unique needs.
Highest Dosage MONISTAT® 1 may be the perfect solution for busy women with active lifestyles. This powerful single-dose product is available in the Ovule® for use day or night and will stay in place during daily activities, even during exercise.
Regular Strength MONISTAT® 3 is a great option for women who want a less concentrated treatment that provides consistent treatment and relief at moderate dosage levels.
Low Dose MONISTAT® 7 is the original formula, with smaller doses of the active ingredient evenly distributed throughout the week at bedtime. Only 7-day topical yeast infection treatments are recommended by the Centers for Disease Control and Prevention (CDC) for the treatment of yeast infections in pregnant and diabetic women (consult your healthcare professional).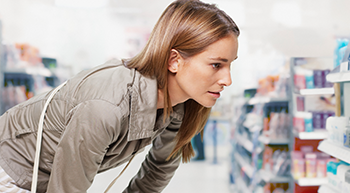 Do you have a yeast infection?
Answer a few questions and find out what your symptoms mean.
Be sure it's a yeast infection
Vaginal yeast infections do NOT cause fever, chills, lower abdominal, back or shoulder pain, foul smelling vaginal discharge, or a missed period. These may be signs of a sexually transmitted disease (STD) or a tubal pregnancy. If you have these symptoms, call your doctor right away. It might not be a vaginal yeast infection. Test before you treat with the Vaginal Health Test.
Relieve symptoms 4X faster
Miconazole, the active ingredient in MONISTAT® will work on more strains of yeast, with less drug resistance and fewer drug interactions than an oral pill. In addition, in studies, MONISTAT® was found to relieve symptoms four times faster than the oral prescription pill because it works right at the site of the infection.*
Regardless of which MONISTAT® product you choose, MONISTAT® starts right at the source to wipe out the infection that is causing the symptoms. And it's a simple as making a stop at your local pharmacy, for a convenient, over the counter (OTC) yeast infection treatment you can start using right away.

Monistat FAQ
Get answers to questions from women just like you.